The Red Dress
The red dress is femininity, temptation, seduction, magnetism, provocation, and a fiery temperament - all wrapped up into one
Time to read: 2 min.
Color Symbolism
Colors bear their own code of associations, conjuring certain perceptions in our mind and triggering a physiological reaction. One can argue that the way we wear certain colors is similar to the way writers use poetic devices – to represent emotions, sensations, and ideas that are otherwise hidden in our subconscious mind.
Certain colors are often seen and used in close proximity to various holidays throughout the year. Christmas and the New Year in many parts of the world call for the celebration of the shade of holly berries and desire (how is that for asymmetrical contrasting, eh?).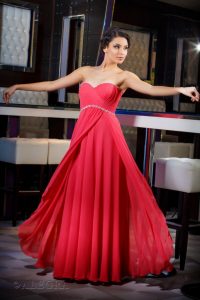 RED
Unlike the little black dress, which Coco Chanel deemed imperative for every woman's wardrobe, the red dress is something more special and distinctive. Owning a red dress is not a necessity, but rather – a privilege. Wearing red is the smart weapon of choice when a lady wishes to stand out in a crowd.
The most feminine of colors has inspired more than one artist down through the ages – from Renoir's and Gaugin's paintings to Cliff Richard's famed ballad to Christina Dodd's novel Danger in a Red Dress. The reason behind such a prominent declaration of love is the symbolism of the color red: the red dress represents femininity, temptation, seduction, magnetism, provocation, and a fiery temperament, all wrapped up into one. It has a direct effect on the senses and almost always invokes a spell of imminent lust.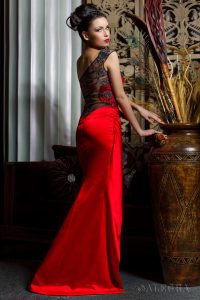 We present to you our favorite statements that no other color can make quite as prominently as red, demonstrated by Falchion's enchanting damme en rouge Mila Belcheva.
Longing, Passion, Temptation
 […] for her men go mad:
The Archbishop of Toledo
Kneels at her feet to say Mass;
And gleams, through the pallor,
A mouth with a conquering smile;
Red chili, a scarlet flower,
Hearts'-blood gives it fire.
A color of blood and fire, red is naturally associated with earthy sensations such as yearning and sexual desire, and it encourages action and the unleashing of one's seductive powers.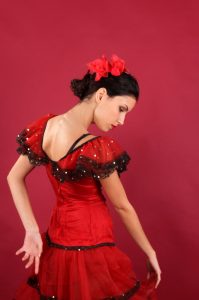 The red dress is a flamenco dance, passionate and flame-inducing; the ultimate battle of the sexes as expressed through art. It is the fatalistic and deadly attractive Carmen – the immortal heroine depicted in worldwide masterpieces such as Prosper Mérimée's novel, Bizet's opera, Carlos Saura's film, and in Théophile Gautier's poem (cited above)…