At Argent, we're all about MEANINGFUL STORIES told through bold voices and interactive mediums that tap into the human love for exploration and adventure.
Our Vision:
To expand the frontier of multidimensional storytelling where different voices, styles, genre, media, and centuries intersect and meaningfully interact.
Our Mission:
To innovate the way creative works and learning content is published, accessed, and experienced.

To inspire people from different backgrounds and areas of interest to engage creatively and intellectually where they otherwise might not typically do so.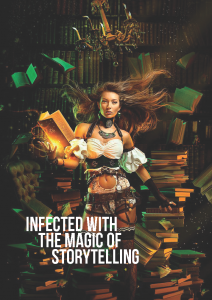 Perhaps most importantly, we strive to significantly expand the market audience and increase the lasting value of our creative output, ensuring the long-term economic potential for writers, visual storytellers, translators, and artistic minds at large.
Together we can create a powerful community that changes the game through competitiveness, innovation, and sustainability, ultimately raising the bar for what is possible for creative worldbuilders the world over!