Petar Chukhov
"We Change Things When We Cross Borders"
Time to read: 7 min.
Peter Chukhov is the author of 11 poetry collections, 3 prose books, and a children's book. His works have been translated into 20 languages and published in over 20 countries. He has received numerous awards, including the Basho Museum Award in Japan. Chuкhov has participated in festivals and readings in Slovakia, Macedonia, Japan, Croatia, Slovenia, the United States, Lithuania, Switzerland, Romania, Hungary, Germany, Sweden, Turkey, and Russia. He writes music and lyrics, has played in various rock bands, and performs his poetry with the poetry and alternative rock group "LaText." He is a member of the Board of Directors of the Bulgarian P.E.N. Center, the Association of Bulgarian Writers, the Haiku Club "Sofia," the World Haiku Association, and Musicautor.
You are well known in Bulgaria for your poetry and prose, but you are also part of several rock bands – "Subdibula," "LaText," "Gologan," and Par Avion Band. What do music, writing song lyrics, and composing give you?
Music provides energy; the experience of playing is more primal and immediate. Moreover, when you create something with others, the feeling is richer. Writing song lyrics teaches humility since the text is usually subordinate to or on equal footing with the music. Composing allows you to express yourself in a language different from words and thus achieve a better connection with some unilluminated corners of your personality.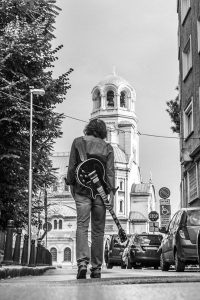 Does the prose writer within you envy the recognition and attention that the poet Peter Chukhov receives?
I haven't noticed, but I don't rule out that it may happen unconsciously. Generally, the prose writer understands that writing fiction requires more discipline and work, but he tries to walk the fine line, taking a somewhat casual approach as a poet in his strategies for writing prose. So, he is usually grateful for the attention he receives despite his relatively meager efforts.
You have won not just one or two national awards. However, tensions, conspiracy theories, and irrational reactions often surround them. Which of these has amused you the most?
The funniest situation was when, after receiving the prestigious "Slaveykov Award" for the second time, a petition was started by dissatisfied writers for me to return it. I also signed it but didn't return the award, explaining that we hadn't collected enough signatures. I have always been impressed by how people manage to unite against someone just because he has received something they desire. And how the attacks against him go far beyond the bounds of good manners – as if they are ready to send him to the guillotine. I have read sinister statements about myself on social networks from people who either don't know me or with whom I thought I had almost friendly relationships. Such sudden demonization is devastatingly tragicomic.
Collaborating with literary historian and critic Plamen Doynov, you've created the format "Writing from Nature." How does this outdoor event challenge poets, and has it been successful over the years?
The poetic plein air "Writing from Nature" offers an opportunity for poets to overcome the traditional isolation of writing. It is like a jam session where participants combine their improvisational skills and energies without prior preparation. As a result, we have multidimensional images of the objects described, an exchange of perspectives, and an atmosphere of curiosity and competition. An essential part of the event is the reading of the written works, revealing similarities and differences, clichés, and interesting insights, culminating in a polyphonic composition built upon the meaning of each poem.
You are also the creator of another spectacular literary genre – the troubadour duels. What provokes you to seek such a fast-paced clash through poetry, and how does a playful rivalry work in literature? What do the audience and authors gain from this format?
In my opinion, the stage presentation of poetry should be diverse and not limited to just reading verses. Besides the playful opposition of poets that makes the event more spectacular, poetic duels also assign a role to the audience, who vote to determine the winner. This makes the audience more attentive and involved, adding extra energy and creating a stronger, more direct connection between participants and the audience.
You also write haiku and have published haiku texts abroad and received awards. How do you view the progress of Bulgarian haiku over the past decades? Has it become recognized and known abroad?
Bulgarian haiku has come a long way – from being a supplementary hobby of two poets, Dimitar Stefanov and Ivan Metodiev, at the end of the last century, through mass participation by people without notable poetic talent or understanding of the genre in the first decade of the new century, to the formation of a strong group of talented and knowledgeable haiku authors in recent years. Many of them now win international awards and are published in the most prestigious haiku publications worldwide.
As we touched upon borders, how do you view genre boundaries, and are you inclined to speculate with them, break, and cross them?
In my opinion, boundaries are important not only to determine the nature of things but also to change it by crossing them. A complete lack of boundaries creates chaos, while strictly adhering to them leads to stagnation.
You write, publish, edit, and work at a library in Sofia – all things related to books. However, Anatas Dalchev writes in one of his fragments: "Nothing wears out a writer so easily, I think, as dealing only with literature." How do you resist this?
You've already somewhat answered this question by pointing out my involvement with music. Also, although I'm not a die-hard cinephile, I watch a few movies every week and don't deprive myself of going to the theater. Besides, as I always emphasize, I have a genuine hobby – beer, which is a strong link between the spiritual and material worlds. I want to dispel any possible misconception immediately – I don't produce, only consume, but in recent years, conditions in Bulgaria have allowed beer enthusiasts to live in relative comfort.

Many cultural institutions cannot function normally due to coronavirus countermeasures. Do you think it's a fair decision for theater performances, exhibition openings, literary premieres, and readings not to occur while hypermarkets and markets continue to operate at full capacity?
I'd rather not answer this question, if I may. Look how quickly things are changing.
On Facebook, you have an alter ego named Chesho Pukhov. You've even staged a troubadour duel between Petar Chukhov and Chesho Pukhov. Isn't it strange that he hasn't debuted a book yet, even though his texts are widely liked and receive many likes?
It might be strange, but Chesho has positioned himself as a conservative-alternative persona, so a book is not one of his most pressing endeavors. However, many of his texts have been published in periodicals. That said, there is already a manuscript, which will likely take book form soon.
Joke aside, what are you working on now, and when can we expect it to see the light of day?
In addition to Chesho Puhov's book, which might come out soon, I'm gathering texts for a new poetry collection. I've already accumulated quite a few and foresee its release either by the end of the year or the beginning of the next. Since I have an anniversary next year, I expect a volume with selected or reduced collected poetry (whatever that means) to appear on that occasion.
An abridged version, translated into English from the original interview.