Brigitte Bardot and the Emancipation of Female Individuality
Once upon a time in France, far far away from the superficial land of Hollywood and its craftily polished movie stars...
Time to read: 13 min.
The End of an Era
Once upon a time in France, far far away from the superficial land of Hollywood and its craftily polished movie stars, a girl was born into a bourgeois Catholic family. The world wasn't quite prepared for this girl, who in time would come to represent what French philosopher Simone de Beauvoir epitomized as the "locomotive of women's history." 
The city is Paris. The date: 28 September 1934; the hour: 1:20 PM. It turned out to be quite an important event, for this date would forevermore be known as the day that God Created Woman. The baby's name was Brigitte Anne-Marie Bardot.
She would grow up to be regarded as "the most beautiful woman in the world." But most importantly she would herald the liberation of female individuality; the first to break through the many restrictive cultural and societal codes that applied to the women of her day. It was, so to speak, the end of an era. Phrases such as freedom of expression and personal style would, in time, come to be redefined.
Today, 87 birthday candles later, Brigitte Bardot remains one of the most exciting women in the world. B.B.'s legendary untamable demeanor remains intact, which is why back in 2018 we pinned her the ultimate personification of the mythological Wildalone (or Samodiva) woman.
Must have been the times, must have been the times…
The sixties, when I think about it, must have been such an exciting time to live in; perhaps one of the most fascinating periods in contemporary history. A time of social unrest and so many changes in politics and society, of bold artistic experiments and innovations, not to mention rock & roll, Beetle-mania, the rebellious credo a la James Dean, and sexual abandon a la Brigitte Bardot.
Incidentally, this was also the time when the perception of most men in relation to their genuine desire to apprehend and please women can be summed up in the course of the following two-line conversation from AMC's fantastic period drama series Mad Men (play video).
(credit: "Mad Men" AMC)
Brigitte Bardot, however, knew exactly what she wanted and she was determined to let the world in on it. She was the first public figure to challenge the rules of the game, placing on a pedestal the freedom of self-expression and ultimately paving the way for sexual female liberation. Not in the way the Miley Cyruses of today believe to be doing so, mind you (nothing against the Miley Cyruses of the world, for they have their part to play too). But the sixties were a time when the now bygone word class (defined as of high quality, the best of its kind) carried a particular meaning and held a certain weight. B.B. was the very epitome of class.
"The liberated woman is the opposite of an easy and frivolous woman," observes Simone de Beauvoir in her eminent essay, Brigitte Bardot and the Lolita Syndrome. Bardot's sole aspiration was the liberty of self-expression; a philosophy that allowed her to remain true to her nature, viewpoints, and style. She never confused free with frivolous, nor did she mistake freedom of expression with a lack of taste. Furthermore, she by no means aimed to deliberately rebel or cast aside morality (in fact, Bardot was an open and avid supporter of President Charles de Gaulle and his Fifth Republic in the 60s, not to mention that her husband of over 20 years is the politician Bernard d'Ormale, a former adviser to Front National leader Jean-Marie Le Pen, known for his expressive nationalism and right-wing conservatism).
---
"Bardot is neither rebellious nor immoral; this is why morality hasn't got a chance with her. Good and Evil are part of the conventions she wouldn't even dream of respecting. She doesn't try to shock or provoke. She makes no demands. She has no idea what her rights or her duties could be. She follows her inclinations. She eats when she's hungry and makes love as simply. Desire and pleasure seem to her truer than precepts and conventions. She doesn't criticize anyone. She does what she pleases and this is what is so troubling."
Simone de Beauvoir
---
Deemed The First and Most Liberated Postwar Woman
Brigitte Bardot unleashed female desire hitherto kept at bay by the norms of the time. Her door to stardom was And God Created Woman, a controversial erotic manifesto for embracing one's inner wild child in a culture of compulsive conservatism. Roger Vadim's film essentially paved the way for the Nouvelle Vague of French cinema and established B.B. as a serial seducer with an unrestrained desire for love and joyous living. She too was so phenomenally beautiful and sexy in her rawness, that the advocates for morality would press hard for the ban of the movie, and Bardot as well. A far cry from the extra-terrestrial stars that Hollywood was producing at the time (Marilyn Monroe, for example), Brigitte caused a continental wave of outrage when And God Created Woman was released in the United States. Despite all the outrage and controversy, the movie was a box office hit.
And thus the Cult of Bardot was born. The rest, as they say, is history.
In the classic mambo scene from And God Created Woman Vadim captures B.B. in her most natural state: untamed, unsophisticated, barefoot, with loose hair, and entranced by her own zest and the power of her dance.
Her Art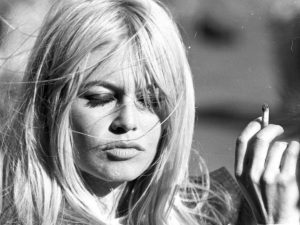 A gifted ballet student for 12 years at the prestigious Conservatoire de Paris (graduating third in her class), the 15-year old Brigitte was featured on the cover of Elle magazine. Her bashful, fresh beauty caught the eye of French director Marc Allegrét, who commissioned his young assistant Roger Vadim to train her for his upcoming audition. The movie was never released but the experience concluded with a love romance between Bardot and Vadim (and three years later, to marriage).
Bardot would abandon her ambition of becoming a professional ballerina in order to remain close to her lover and first husband to be. Says Vadim in his memoirs: "At the beginning of the 50s Brigitte decided to bid dancing good-bye for good.  This decision was not taken lightly. She knew that she was giving up her childhood dream, her only true ambition of becoming a great ballerina. She did not love the cinema enough, yet she put her love before her inclination."
It was Roger Vadim's controversial drama And God Created Woman that rocketed B.B. to stardom, introducing a very, very new type of female: the Wildalone woman.  Rawness, sensuality, comfortable with oneself, and sexuality would become the hallmarks of the Bardot ethos and style (the author discusses this in detail in "Mythological Female Archetypes. Samodiva – the Intoxicating Shapeshifter," Argent 2020).
As for Bardot's acting talent, critics still are in disagreement. The actress, as Vadim asserted, never found a true passion in acting and therefore, for the most part, lacked the intellectual grit in selecting mature and challenging roles. Unlike ballet, she perceived acting solely as means to make a living, never mistaking it for actually living. Being on-set would often bore and irritate her, as she genuinely despised the falseness of the film industry. She would impatiently wait for a movie to be over so that she could go back to the activities she valued most – being with her loved ones, traveling with her small group of close trustees, playing the guitar and dancing (often barefoot), or enjoying the sun and the nature of her secluded Saint Tropes villa La Madrage.
Bardot nonetheless did gain significant accolades for several of her films, including Clouzot's The Truth, Luis Male's A Very Private Affair, for which she was awarded the David di Donatello Award and his Viva Maria!, for which she received the BAFTA Award for Best Foreign Actress.
Always original, when in 1958 she was asked to once again participate in the New Year's program, which was to be nationally televised, Brigitte insisted on dancing ballet for her audience (instead of, say, singing easy-going chansons). She, too, decided to perform not just any piece, but the very pas de deux from Sleeping Beauty. To get her body back in shape after a break of seven years from dancing, she trained relentlessly with Michel Renaud, the most acclaimed ballet dancer of the Opéra at the time. The program was highly acclaimed, culminating with an article in Pari-Match, entitled "B. B. – a Social Phenomenon."  
Bardot and Blueprints? Perhaps not.
Brigitte refused to represent any stale blueprint simulating eroticism. Everything she demonstrated on-screen—liberation from the restrictive criteria of the time, rawness, and the ardent and genuine striving to always be natural—was no different from how she mamboed through her personal life. She possessed a shockingly remorseless libido and was known to have no restraints when she desired someone, as evidenced in her memoirs as well as in the recollections of her contemporaries. Unlike other actresses within and outside the borders of France who followed the established norms, Bardot set her own. This is precisely why Simone de Beauvoir would proclaim her to personify "absolute freedom" par excellence.
And yet, Bardot's lust, however open, was not aggressive. She was not the classic female-vamp, nor a feminist, carving a new path for women to follow. At the center of Brigitte's love quests was primarily her own pleasure and almost obsessive desire for romance. In her biography, Initials B.B. (entitled after a song of the same name dedicated to her by Serge Gainsbourg), the actress admits to clinging to love: "When depleted of love I become a parasite, I simply become ugly." Bardot confesses that she is unable to function properly if her heart doesn't jump at every ring of the telephone. Because of that persistent need to love and to be loved, she has always been true to her romantic pursuits; or, at the very least, true to that love which lasts for an evening.
But B.B. was not simply desirable in the strictly physical way. It was namely the ability to remain true to her nature and principles regardless of etiquette, official protocols, or social morals that gained her widespread admiration (or, condemnation, depending on the occasion). Take her first New York City press conference during the promotion of Viva Maria!, where she effortlessly won over the journalists with her non-pretentious poise and brisk, witty answers.
Q: What do you think about free love?
A: I never think when I make love.
Q: Who is the dumbest person you have ever encountered?
A: You, since you're asking me such a dumb question.
Q: What do you wear in bed?
A: The hands of my lover.
(In contrast, and going back to our earlier discussion about the carefully crafted images of Hollywood icons at the time, Marilyn Monroe answered the same question with her illustrious "Chanel Number 5.")
Bardot, too, was not afraid to speak her mind on other issues she felt passionate about;  animal abuse, politics, immigration, and Islam being some of them. In 1985 the actress was named Chevalier of the Légion d'Honneur but refused the recognition because, as she believed, it came from an administration that allowed for the mistreatment of animals. In her 2003 book A Scream in the Silence,  she once again slammed society for its inhumane treatment of animals, disconnection from nature, and overall shallow lifestyle.
---
"Over the last twenty years, we have given in to a subterranean, dangerous, and uncontrolled infiltration, which not only resists adjusting to our laws and customs but which will, as the years go by, attempt to impose its own."
Brigitte Bardot, A Scream in the Silence
---
The book also echoes sentiments from Oriana Falacci's tremendously important study of Islamic fundamentalism, The Rage and the Pride, as the actress-turned-activist cautions against the "Islamization of France," a sensitive topic even then, and one which now has become highly relevant. She has been convicted by the French court and fined five times for her statements on the subject.
B.B., the Iconoclast
When we think of sixties elegance and glamour in the United States, the following scene (Mad Men, again) pretty much outlines it all (play video).
(credit: "Mad Men" AMC)
Or, so you think, Paul Kinsey.
Right around this time, on the other side of the Big Pond, Brigitte Bardot was quickly becoming an icon. Self-assertive in every respect, and faithful to a lifestyle that manifested in the ultimate freedom of expression, B.B. would redefine the world of fashion by establishing new trends that would hold immense influence over the generations to come.
Brigitte Bardot challenged the aesthetics of the constrained, the inhibited, flawlessly assimilating elegance and rawness. She made oversized chunky sweaters, pencil mini-skirts, tailored polka-dot pants, and that famous Bardot-neckline (the one that left both arms bared) look extremely stylish on the streets of Champs-Élysées. The unsophisticated bun, messy layers, and eminent "sauerkraut" hairstyle channeled by Kate Moss, the late Amy Winehouse, and almost everyone else? Well, that happens to be Bardot's personal invention. Ballerina flops worn by a non-dancer? It was Brigitte who initially requested a pair from the dance-shoe-makers Repetto for her role in And God Created Woman; she then began wearing flats around the city, establishing them as a solid fashion staple. The dramatic cat-eye eyeliner? Bardot signature as well.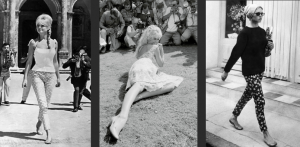 To say nothing of her memorable breach of Elysée protocol, which banned women from wearing trousers as evening wear. Brigitte made history once again, arriving for her audience with Charles de Gaulle dressed as a Napoleonic hussar. The actress recalls in her bio nervously greeting her war hero "Bonjour, mon général." The French President, having quickly inspected her bold attire, replied rather amusedly "Indeed! Madame." (Did she try purposely to overthrow the established dress code? Those of you who answered "Yes" would need to go back and read the entire article all over again.)
B.B. admits to having failed to check the official protocol, overly-excited from the opportunity to meet with— and show her admiration for— Charles de Gaulle. Being the person she has always been, that is – uninhibited, impulsive, a bit eccentric, and very creative by nature, she paid her respect in her own unique way by essentially channeling de Gaulle's own apparel.
There are so many fascinating aspects to Bardot (we haven't even touched upon her animal rights activism, the fact that she has been a breast cancer survivor for thirty-two years now, nor that she has never resorted to plastic surgery or any other cosmetic intervention), but for the reasons outlined in this article alone, she has earned her admittance many times over into the pantheon of most significant pop-cultural icons on the world stage.
With much love from Argent – Joyex anniversaire, B.B.! 
[Published originally in the 2018 Summer issue of Falchion Pub]