Brigitte Bardot and the Emancipation of Female Individuality
It was, so to speak, the end of an era
Time to read: 11 min.
Once upon a time, in a land far away from the superficial realm of Hollywood and its craftily primped stars, a girl was born in France into a bourgeois Catholic family. Little did the world know, this girl would come to epitomize what French philosopher Simone de Beauvoir referred to as the "locomotive of women's history."
The city: Paris. The date: September 28, 1934; the hour: 1:20 PM. It turned out to be quite an important event, forever inscribed in film history as the day "God Created Woman." The girl's name: Brigitte Anne-Marie Bardot.
She would grow to be regarded as "the most beautiful woman in the world." Perhaps most importantly, she would become a harbinger of female individuality; the first to shatter the restrictive cultural and societal codes that applied to the women of her time.
It was, so to speak, the end of an era.
Today, 87 birthday candles later, Brigitte Bardot's untamable spirit endures, which is why, back in 2018, we at Argent deemed her the ultimate personification of the mythological Wildalone (Samodiva) woman.
Must have been the times, must have been the times…
The sixties, when I think about it, must have been such an exciting time to live in; perhaps one of the most fascinating periods in contemporary history. A time rife with social unrest and sweeping transformations in politics and society, a crucible of audacious artistic experimentation and innovation, not to mention rock & roll, Beatlemania, the rebellious spirit à la James Dean, and sexual abandon à la Brigitte Bardot.
Incidentally, this was also a time when the genuine desire to comprehend and please women could be summed up in the following succinct exchange from AMC's delightful period drama series "Mad Men" (play video).:
(credit: "Mad Men" AMC)
Brigitte Bardot, however, possessed an unwavering clarity of what she wanted, and she was resolute in sharing her vision with the world. She subsequently emerged as the first post-war liberated female star. It is worth noting, however, that she did not intentionally seek to forge a path for the sexual emancipation of women. Bardot's singular ambition was the liberty of self-expression, a philosophy that allowed her to remain true to her intrinsic nature, primal desires, and unique style. She neither equated liberty with mere frivolity nor confused freedom of expression with expressions of distaste, in stark contrast to the prevalent trend in today's misguided liberal culture. The sixties were a time when the now-bygone term "class" (as in high quality and the best of its kind) bore a distinct significance and carried a certain gravitas. B.B. was the very epitome of class.
---
"Bardot is neither rebellious nor immoral; this is why morality hasn't had a chance with her. Good and Evil are part of the conventions she wouldn't even dream of respecting. She doesn't try to shock or provoke. She makes no demands. She has no idea what her rights or her duties could be. She follows her inclinations. She eats when she's hungry and makes love as simply. Desire and pleasure seem to her truer than precepts and conventions. She doesn't criticize anyone. She does what she pleases and this is what is so troubling."
Simone de Beauvoir, "Brigitte Bardot and the Lolita Syndrome"
---
Bardot's Artistic Journey
A prodigious ballet student for 12 years at the esteemed Conservatoire de Paris (graduating third in her class), the 15-year-old Brigitte graced the cover of Elle magazine. Her demure, blossoming beauty captured the attention of French director Marc Allegrét, who enlisted his young assistant Roger Vadim to groom her for an upcoming audition. Though the movie never came to fruition, the experience culminated in a passionate romance between Bardot and Vadim (and three years later, marriage).
Brigitte would relinquish her dream of becoming a professional ballerina to remain close to her lover and future husband. Vadim recalls in his memoirs: "At the beginning of the 50s, Brigitte decided to bid dancing farewell for good. This decision was not taken lightly. She knew she was relinquishing her childhood aspiration, her sole true ambition of becoming a great ballerina. She did not love the cinema enough, yet she put her love before her inclination."
Her gateway to stardom was Vadim's "And God Created Woman," a provocative erotic manifesto amid a culture of pervasive conservatism. Roger Vadim's film laid the foundation for the Nouvelle Vague of French cinema and positioned B.B. as a serial seducer with an unbridled yearning for love and exuberant living. Her raw, phenomenal beauty and sensuality sparked advocates for morality to call for the ban of the movie and Bardot. A far cry from the otherworldly stars Hollywood produced at the time (Marilyn Monroe, for example), Brigitte incited a continental wave of indignation when "And God Created Woman" premiered in the United States. Despite the outrage and controversy, the movie was a box-office success.
And thus, the Cult of B.B. was born. The rest, as they say, is history.
As for Bardot's acting prowess, critics remain divided. The actress, as Vadim maintained, never discovered a genuine passion for acting and, as a result, largely lacked the intellectual determination to pursue mature and challenging roles. Unlike ballet, she viewed acting solely as a means to make a living, never mistaking it for a true living. Being on set would often bore and vex her, as she genuinely detested the artifice of the film industry. She would impatiently await a movie's conclusion so she could return to the activities she cherished most – spending time with her loved ones, traveling with her close-knit circle of confidants, playing the guitar and dancing (often barefoot), or relishing the sun and nature at her secluded Saint-Tropez villa, La Madrague.
Nevertheless, Bardot garnered considerable accolades for several of her films, including Clouzot's The Truth, Luis Malle's "A Very Private Affair," for which she received the David di Donatello Award, and his "Viva Maria!," earning her the BAFTA Award for Best Foreign Actress.
B.B. and Blueprints? Perhaps not.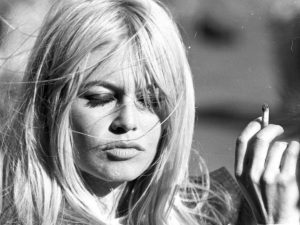 Brigitte refused to represent any stale blueprint that emulated eroticism. Her rawness and the fervent, authentic pursuit of naturalness she displayed on-screen mirrored how she mamboed through her personal life.  Possessing a remarkably unapologetic libido, she was known for her unrestrained desires, as documented in her memoirs and the accounts of her contemporaries. Unlike other actresses within and beyond France who adhered to established norms, Bardot blazed her own trail. This is precisely why Simone de Beauvoir declared B.B. the epitome of "absolute freedom" par excellence.
Yet, Bardot's lust, however open, was not belligerent. She was neither a traditional femme fatale nor a feminist carving a new path for women. At the heart of Brigitte's romantic pursuits lay her own pleasure and her almost obsessive yearning for romance. In her autobiography, "Initials B.B." (named after a song dedicated to her by Serge Gainsbourg), the actress admits to being reliant on love: "When depleted of love, I become a parasite, I simply become ugly." Bardot confesses her inability to function properly unless her heart leaps at every telephone ring. Due to her constant need for love and affection, she remained faithful to all her romantic pursuits, even those fleeting loves that lasted only an evening.
But B.B.'s allure was not limited to her physical attractiveness. She could captivate her audience with an engaging, often spontaneous, and candid demeanor, which garnered her widespread admiration (or condemnation, depending on the occasion). During her first New York City press conference promoting "Viva Maria!," she effortlessly charmed journalists with her genuine poise and sharp, witty responses.
Q: What do you think about free love?
A: I never think when I make love.
Q: Who is the dumbest person you have ever encountered?
A: You, since you're asking me such a dumb question.
Q: What do you wear in bed?
A: The hands of my lover.
(In contrast, and going back to our earlier discussion about the carefully crafted images of Hollywood icons at the time, Marilyn Monroe answered the same question with her illustrious "Chanel Number 5.")
Ever original, when asked to participate in the 1958 New Year's program to be nationally televised, Brigitte insisted on performing ballet for her audience (instead of, for instance, singing light-hearted chansons). Moreover, she chose to execute not just any piece but the very pas de deux from Sleeping Beauty. To regain her ballet form after a seven-year hiatus, she trained relentlessly with Michel Renaud, the most renowned ballet dancer of the Opéra at the time. The program was met with resounding praise, culminating in a Paris-Match article titled "B. B. – a Social Phenomenon."
B.B., the Iconoclast
When we think of sixties elegance and glamour in the United States, the following scene ("Mad Men," again) outlines it all (play video).
(credit: "Mad Men" AMC)
Or, so you think, Paul Kinsey.
Right around this time, on the other side of the Atlantic, Brigitte Bardot was rapidly Brigitte Bardot was swiftly becoming a fashion icon in her own right. Self-assertive and committed to a lifestyle that exemplified the ultimate freedom of expression, B.B. B.B. defied the aesthetics of restraint and inhibition, skilfully blending elegance with rawness. In the process, she revolutionized the fashion world (once again, unintentionally), establishing new trends that would leave a lasting impression on future generations.
Bardot popularized oversized chunky sweaters, pencil mini-skirts, tailored polka-dot pants, and the iconic Bardot neckline (which exposed both arms) as stylish attire on the streets of Champs-Élysées. The unsophisticated bun, messy layers, and eminent "sauerkraut" hairstyle later replicated by Amy Winehouse and many others? Well, that happens to be Bardot's original creation. Ballerina flats worn by a non-dancer? It was Brigitte who first requested a pair from dance-shoe-makers Repetto for "And God Created Woman"; she then donned the flats around the city, ultimately establishing them as a fashion staple. The dramatic cat-eye eyeliner? Another one of Bardot signatures.
To say nothing of that memorable breach of Elysée protocol, which forbade women from wearing trousers as evening wear, made history. Brigitte attended her audience with Charles de Gaulle dressed as a Napoleonic hussar. In her biography, the actress recalls nervously greeting her war hero with "Bonjour, mon général." After inspecting her audacious attire, the French President responded with amusement, "Indeed! Madame." (If you think she intentionally sought to overturn the established dress code, you may need to revisit the entire article.)
B.B. admits that she neglected to review the official protocol, too excited about the opportunity to meet and express her admiration for Charles de Gaulle. Being her usual impulsive, somewhat eccentric, and very original self, she paid her respects in her distinctive manner by essentially emulating de Gaulle's own apparel.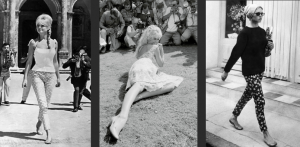 Bardot, too, was not afraid to speak her mind on other issues she felt passionate about;  animal abuse, politics, immigration, and Islam being some of them. In 1985 the actress was named Chevalier of the Légion d'Honneur but refused the recognition because, as she believed, it came from an administration that allowed for the mistreatment of animals. In her 2003 book A Scream in the Silence,  she once again slammed society for its inhumane treatment of animals, disconnection from nature, and shallow lifestyle.
---
"Over the last twenty years, we have given in to a subterranean, dangerous, and uncontrolled infiltration, which not only resists adjusting to our laws and customs but which will, as the years go by, attempt to impose its own."
Brigitte Bardot, A Scream in the Silence
---
This work echoes sentiments from Oriana Fallaci's profoundly significant study of Islamic fundamentalism, The Rage and the Pride, in which Bardot warns against the "Islamization of France." This controversial topic, sensitive even then, has only grown more relevant over time. For her bold statements on this and other subjects, Bardot was convicted by the French court and fined five times.
There are so many fascinating aspects to Bardot (we haven't even touched upon her animal rights activism, the fact that she has been a breast cancer survivor for thirty-two years now, nor that she has never resorted to plastic surgery or any other cosmetic intervention), but for the reasons outlined in this article alone, she has earned her admittance many times over into the pantheon of most significant pop-cultural icons on the world stage.
With much love from Argent – Joyex anniversaire, B.B.! 
[Published originally in the 2018 Summer issue of Falchion Pub]