Coastal Getaways: Blue Heron Bridge
A kaleidoscope of wonders await just below the surface of the water.
Time to read: 3 min.
Adventure Level: Moderate
Fishing
Fishing is allowed throughout the park. Please remember bathers have the right of way. All saltwater fishing regulations apply.
Swimming
Never swim alone. No lifeguards are on duty either. Swim at your own risk.
Directions: Map
From the west:
Take the North or South Causeway east. Proceed north on Peninsula Drive for two to three miles.
From the south:
Take S.R. A1A north to Flagler Avenue and turn left.
If you scuba dive, the Blue Heron Bridge offers you a viewing of all manner of critters just beneath the waves. If you don't scuba, don't worry, grab a snorkel and you'll get just as good a view (well, almost anyway). The water here is 30ft at its deepest, and there are plenty of spots to swim and snorkel comfortably.
IF YOU DO SCUBA DIVE… This is a great spot for beginning divers. The water is not deep and the divers at Force-E are experienced pros, and more than happy to take you on a guide of the bridge.
You'll find a collection of divers and snorkelers here every day, not to mention the daily beachgoers soaking in the rays. Here are just a few of the critters you can encounter at this one-of-a-kind spot:
Nudibranch (Flabellina Dushia)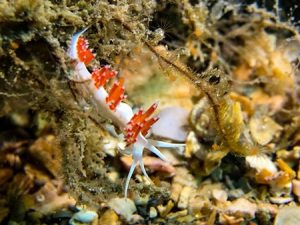 Meet the curious and tiny sea slug. These little boogers are hard to find, but if you're lucky enough to spot one, they are a treat to watch as they sway beautifully with the direction of the current. Note: in some parts of the world, they can grow much larger than the ones we saw at the Blue Heron Bridge!
Sea Anemone (Dendrophyllia)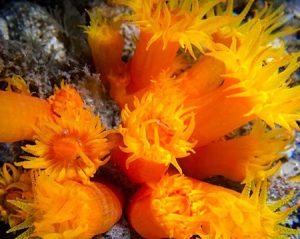 Isn't it amazing what the iPhone is capable of with the proper lens!? These sea anemones are so beautiful under the waves; they add so much color and vibrancy as one ventures into the underwater kingdom.
Portuguese Manowar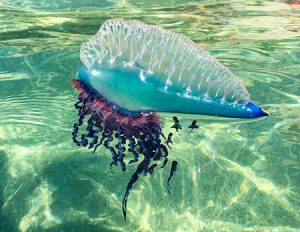 Ouch! Keep your distance from this marine hydrozoan. As beautiful as they are, the sting of these "floating terrors" packs a wallop. I had always heard of the Manowars, but had never dreamed of encountering one in the flesh. It was an incredible surprise! Their poisonous tentacles have been known to stretch hundreds of feet, and on a few occasions have proven fatal. Its presence at the bridge immediately drew a crowd of onlookers, content to gawk and take pictures (from a distance).
Stargazer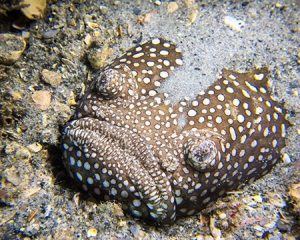 Check out this little philosopher as he ponders his next meal. Stargazers can be found in both shallow and deep water and are venomous. Their most notable characteristics are eyes situated on the top of their head, as well as their habit of burying themselves in the sand to better ambush unsuspecting prey. At least that's what the experts say. Myself, I like to imagine the critters contemplating the infinite expanse of the beyond as they wallow in the sand and gaze upward toward the stars. There are many, many other varieties of fish and critters to be found at the Blue Heron Bridge. These are just the tip of the iceberg. This unique place has to be experienced to be believed.
Originally published in the 2018 Summer issue of Falchion Pub.